Bamburgh Research Project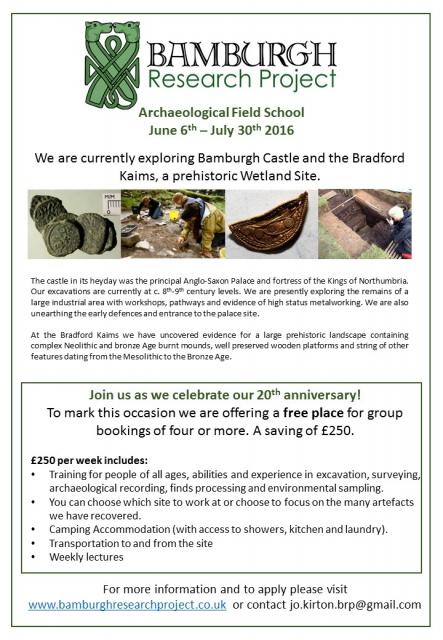 Sunday, 3rd April 2016
6 June to 30 July 2016
Bamburgh Research Project have been running a field school for the past 19 years exploring Bamburgh Castle and its environs. We currently have two sites under excavation, the West Ward of the castle, which is presently at 8th-9th century deposits and the Bradford Kaims, which is a prehistoric wetland site. We offer a raft of archaeological training, ranging from survey and excavation to post excavation, where we process and identify the artefacts we recover. We are very keen to encourage all age groups, abilities and backgrounds to engage with the project, as there is something for everybody to get involved with. We regularly have local schools, universities and history societies working with us, as well as interested individuals and family groups.
As this year will be the projects 20th anniversary we are offering a discount on group bookings. A week booking costs £250 for training, transportation to and from the site, accommodation and weekly lectures. We are currently offering a four for three package.
The Bradford Kaims also hosts community open days, which are free to attend but must be booked.
Further details from Jo Kirton